Brett Foster died in November 2015 at the age of 42, having battled an aggressive form of cancer for a year and a half. Brett was a stunningly gifted man, a prolific scholar, a brilliant poet and translator of poetry, an essayist of breathtaking scope, boyish in his enthusiasms, humble and exuberant in his devotion to his friends, a charismatic teacher, devoted to his wife and two children. From his post in the English department at Wheaton College, he visited Orvieto several times, finding the time to teach a course on Dante's Divine Comedy in the spring of 2013 for Gordon's semester program in Orvieto. The essay below was occasioned by his excursion to Assisi with the Orvieto students. It is edited from a longer essay published in the Huffington Post on October 4, 2013, updated on January 23, 2014, and available here.
 
The usual parking spaces were all full near the Eremo dei Carceri, Saint Francis's hermitage tucked away amid the oak and ilex trees in a crease of Mount Subasio hundreds of feet above Assisi. "Wow, it's more crowded here than I have ever seen it," said Matthew Doll, the program director of Gordon College's semester program in Orvieto where I was teaching a month-long course in Dante's Divine Comedy. We had to proceed farther up the mountain, but eventually found spaces for the three vans.
After a short walk we encountered a quietness and scarcity of people befitting a hermitage. Not even a guide was present to show us the way through the small rustic building and toward the pilgrim trail. We descended the small stairs in the relative dark, passing one woman earnestly praying in a stone nook.
The trail beyond the site was lovely. We soon approached a flat rock, roughly the size of a twin bed, which held a bronze statue of St. Francis in repose. Honestly, the best way to describe his posture would be to say that he was chilling: flat on his back, arms raised and behind his head. His face appeared restful, like the face of one who knew himself to be a creature of God. This was where Francis and his brothers would retreat from the world and undertake their spiritual disciplines. The scenic space made it easier to imagine the quirky saint giving his sermon to the birds and meaning every word of it.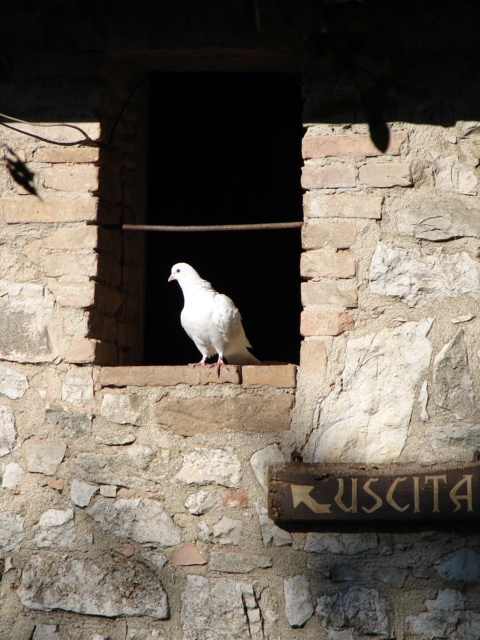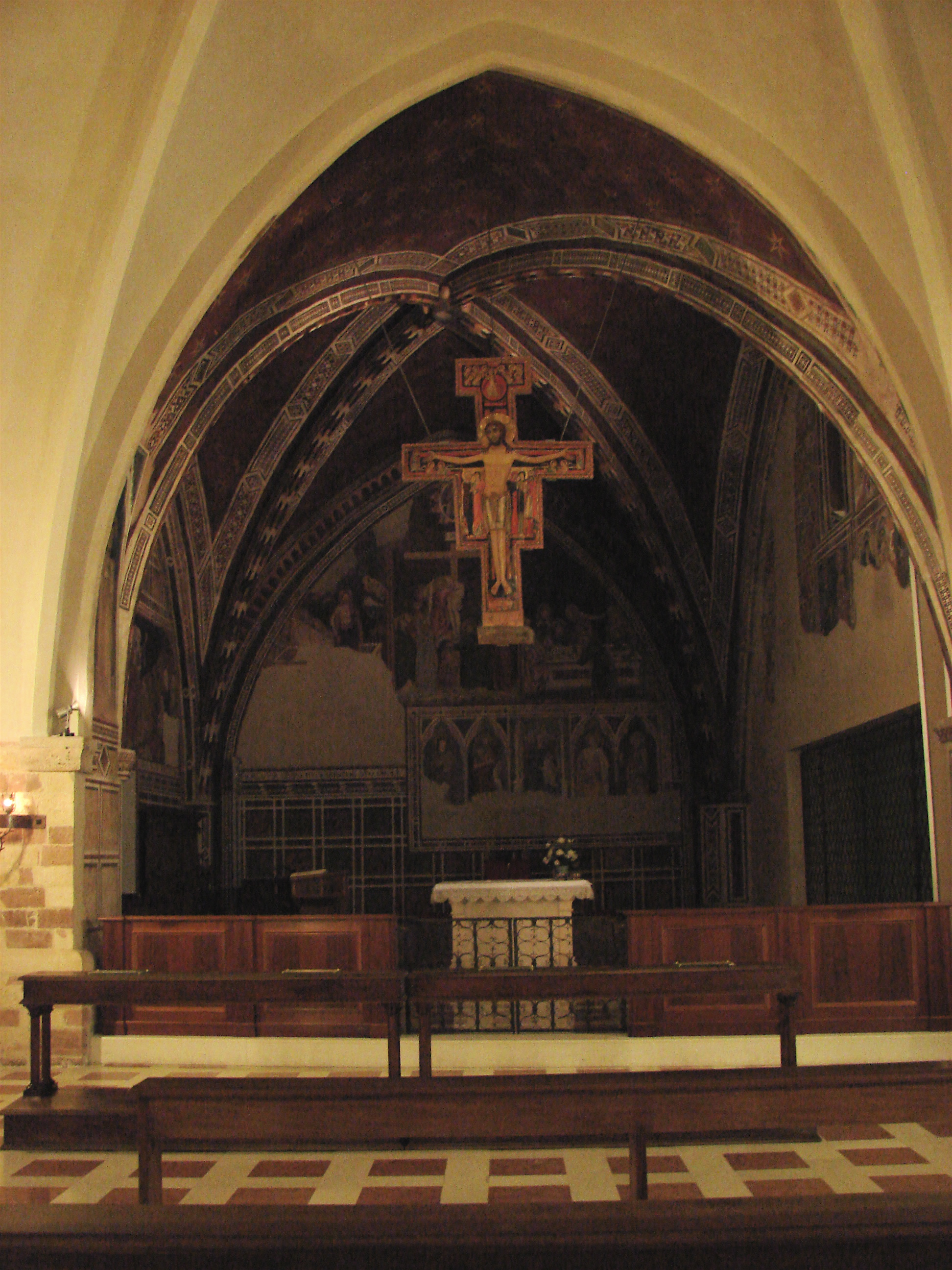 Before visiting the hermitage, we had stopped at San Damiano, a still admirably rough church with its small cloister and wooden stalls, located amidst the olive groves on the hillside below the city walls of Assisi. It was here in 1205, when Francis was 23, that a wooden crucifix was said to speak to him, ordering him to "Rebuild my church." The young man was then little more than a restless, eccentric son of a prosperous cloth merchant. He took the message literally, and began to restore stone by stone the church in which we were standing. The message, though, had broader implications, as the work and witness of his life and his posthumous legacy soon demonstrated.
A grove near San Damiano is reportedly where Francis composed his "Canticle of the Creatures," a rhapsodic poem of praise that, being written in the Umbrian dialect, makes it the great, inaugurating poem in the Italian language. "Most high, all powerful, all good Lord! / All praise is Yours, all glory, honor, and all blessing. . . . Be praised, my Lord, through all Your creatures. / Especially my lord Brother Sun, / who brings the day; and you give light through him. / And he is beautiful and radiant in all his splendor!"
The crucifix that gave Francis his marching orders now hangs in a chapel in the church of Santa Chiara just inside the town walls above San Damiano. Inspired by Francis' example, Clare, daughter of a wealthy Assisi family, cut her hair, left home, and became one of the saint's most devoted followers. Eventually she became abbess of the order that bears her name, the Poor Clares, and is buried in Santa Chiara. One of the more poignant frescoes in Giotto's magisterial cycle on Francis's life shows Clare and other nuns having raced forth from San Damiano to mourn over the body of the dead saint as it passed by in procession.
They and other townsfolk sought out Francis' body, as Bonaventure explains in his Life of Saint Francis, not to intensify their sadness but "so that they could dispel all doubt and add joy to their love." Bonaventure compares one knight named Jerome to Thomas the doubting apostle, who was suspicious of the "sacred signs" on Francis's corpse — that is, the evidence of Francis receiving the Stigmata. He touched the hands, feet, and side, and even moved the supernaturally present nails, "black like iron," that Bonaventure says were embedded in the flesh like "continuous hardened sinews." The knight's bold examination of these signs of Christ's wounds "completely healed the wound of doubt in his own heart and the heart of others."
If Clare and her sisters wept for Francis's death, many others through the centuries have found solace in his life and sainthood. The Trappist monk Thomas Merton included sweetly blunt prayers to Francis in his journals: "Holy Father Saint Francis, I believe that, in your immense and inexpressible love of Jesus Christ our Lord, you can look into my dumb, crooked soul and see what is there before I can say it in the selection of cheap, vulgar, stupid words presently about to flow from my inexpensive fountain pen." Help me, Merton asks, to follow your own example, "that I may laugh and sing when I am despised for God's love, and that I may dance and play when I am reviled for God's love, and called a mad man, and a fool and a crook."
When the students regrouped outside of San Damiano, the director led us up a path into the green-grey setting of the olive grove, with a breath-catching, panoramic view of the valley far below. The one noticeable landmark seen from there was the dome of Santa Maria degli Angeli, which one guidebook fairly describes as "vast but uninspiring." Within it, though, sits one of the most inspiring Franciscan sites, the Porziuncola. Francis and his brothers repaired the schoolroom-sized chapel as their headquarters, around which they built outcropping shanties. The marble floors and high pillars of today's grand church have been built around and above this modest originating spot.
On the way to our culminating stop at the Basilica of San Francesco, we took in the pink and light-grey stone, the native materials from which Assisi's buildings were raised. We also marveled at the numbers of people. This hill town of fewer than three thousand residents welcomes around five million visitors each year. Assisi, then, is no stranger to huge crowds, and it also attracts its fair share of mystics and barefoot madheads.
During the first weekend of May, many towns hold medieval festivals, which in a well-preserved town such as Assisi may seem to risk gilding the lily. Everyday is like a medieval festival in Assisi. Banners were on display throughout the narrow streets, emblazoned with ancient coats of arms. Many people, from children to venerable elders, were walking toward the town's central piazza for a civic pageant of some sort. That area was closed to passersby, which meant we had to take a less traveled, narrower route to reach San Francesco. In the wide lawn in front of the Basilica, the shrubbery is laid out in the form of the word "PAX". The little girls and young women charmed in their pastel gowns and fluted headgear. This event partially explained the crowds, but there was another, greater reason, too — the election of the first Pope to take on the name Francis.
Jorge Bergoglio, shortly after being elected, declared to the world, "Good evening, I am Francis." He explained how the name of the "man of peace," the one called il poverello ("the little poor one") came into his heart, and how he found in St. Francis a model for anyone who loves and cares for creation. Pope Francis has been a refreshing spiritual voice so far, even if some of his first actions as pope have made some of the Catholic faithful nervous. Many around the world, though, welcome what is perceived as a newly emphatic concern for Gospel-centered values that St. Francis himself embodied: just as this Jesuit worked among HIV/AIDS patients in Argentina and, as cardinal there, spoke harsh words to clergy when necessary, so as pope he is speaking up for the poor and calling churchmen to a higher account.
Shortly after his election, he warned all believers against becoming "starched Christians" who discuss theology over tea, more polite than courageous or compassionate. He made these remarks in St. Peter's Square, from the stairs of the church, speaking with a forthrightness that continues to characterize his papacy. He also admitted to nodding off sometimes during his evening prayers, and said it broke his heart that a homeless person's death is not considered newsworthy. He has agitated some with this tendency to extemporize, and with a signaled willingness to reprimand even the powerful within the Curia. However, maybe we need to hear a little more roundly about struggles cultural and ecclesiastical, and about the pope's own human challenges. These challenges came to the front earlier this year when Benedict XVI obeyed the dictates of his own ageing body. And now, a pope who struggles when attempting prayer with a sleepy body, with what St. Francis affectionately called "Brother Ass."
A Catholic friend of mine put it memorably: "We have an Argentinian-Italian Jesuit dramatically assuming the mantle of St. Francis . . . it's going to be a wild ride." This fact was made clear just recently when a long, topic-ranging interview with pope Francis was published. (The English version appeared in the Catholic publication America [September 30, 2013].) Once again, Francis spoke of himself frankly, calling himself a sinner: "It is not a figure of speech, a literary genre." Referring to controversial social issues that tend to divide those both outside of the church and within it, the pope regretted that sometimes the church "has locked itself up in small things"; it needed to find a "new balance," he said, so as not to lose "the freshness and fragrance of the Gospel."
Francis may neither be the church-destroyer that conservative Catholics fear nor the social-revolutionary pontiff that liberal believers or the church's usual critics wish to imagine. Undoubtedly, though, he is now one of our most interesting global figures. As the New York Times hailed, "Surprise Pope Keeps On Surprising."
Daniel P. Horan, writing earlier in America, hoped that the new pope will embrace St. Francis' unwillingness "to compromise with the world and its powers." He claims that the saint by rejecting medieval Assisi's "emerging market economy and activity of the rising merchant class," in which his own family was successfully central, foresaw today's global economy and the monetization of goods, labor, and even people.
There were obvious signs of excitement at the new pope's election and his choice of papal name at the Basilica of San Francesco. A sign just inside the church's upper level read in Italian, "Assisi shows gratitude and affection for Pope Francis," and as I walked around the church, I noticed two different issues of Review San Francesco on display – one with Cimabue's famous medieval portrait of the saint, which can be seen in person on the lower level, and one featuring the new pope. Its first page featured two images— Giotto's apotheosis of "Francesco santo" and, beneath it, a photo of "Francesco papa" greeting the faithful.
Looking carefully at Giotto's cycle, I soon realized that I had had a week full of popes. There were a number of them in these frescoes. Innocent III dreams of Francis lifting on his shoulder the Lateran, one of Rome's great churches and papal residences. The image signifies that the saint would rebuild not just a little church outside of Assisi, but the entire Church. In another, he preaches before Honorius III, whom Giotto renders with the pope lifting a thoughtful finger to his chin. It was Honorius who accepted the new Franciscan order's "Rule and Life of the Lesser Brother." Late in the cycle, some of the final frescoes focus on Gregory IX's canonization of Francis.
It was popes, popes, popes, everywhere I looked and in everything I read, a newly retired pontiff here, a newly elected pontiff there, good and bad popes from church history here and there. My students and I had been recently encountering several popes in The Divine Comedy. There are bad popes like Nicholas III, who in Inferno is stuffed in a stone "purse" as punishment for his financial abuse of his office. He mistakes Dante's arrival for that of Boniface VIII, who Nicholas fully expected to arrive in hell soon enough. But there are also good ones like the pope in Purgatorio, who balks when Dante kneels before him, and who eventually begs off from their conversation in order to continue his penance.
On the very day of our Assisi trip, Pope Emeritus Benedict XVI was all over the Italian papers because on the day before he had returned to the Vatican for the first time since his retirement. Pope Francis welcomed him at his new home, a monastery within the Vatican. And it was during the same week that Umbria's bishops had issued an invitation to pope Francis to visit Assisi today. When the newspaper La Stampa interviewed the head of the Sacred Convent of Assisi about this news, the friar, Mauro Gambetti, remarked that the main similarity he sees between medieval saint and present pope is a sense of freedom, "through his gestures, attitude and way of being."